Get ready for an unforgettable party experience at Ayu Dayclub.
To experience the club and party, you must understand and embrace the dress code.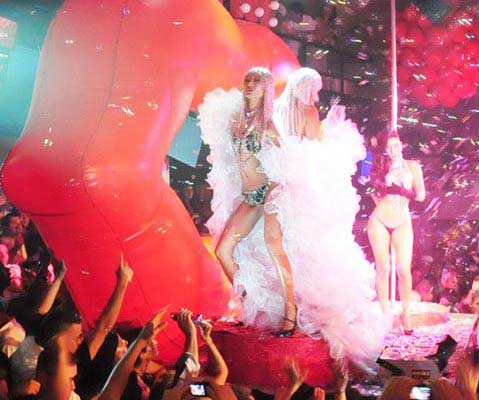 Ayu Dayclub Las Vegas Dress Code
As you prepare for an unforgettable party experience, it's essential to understand and embrace the Ayu Dayclub Las Vegas dress code. Let's explore together the dress code guidelines for both ladies and gents, and discover outfit inspirations that will elevate your Ayu Dayclub experience to new heights.
At Ayu Dayclub, chic poolside elegance sets the tone for a unique, elite and memorable experience. Ayu's dress code reflects the commitment of the venue to maintaining an upscale and vibrant atmosphere, where every guest feels like a true VIP. Here's what to consider when planning your day of sun-soaked fun:
Ladies: Embrace Glamorous Poolside Chic
Ladies, get ready to shine with glamorous poolside chic. Opt for trendy and stylish swimwear that showcases your individual style. Consider one-piece swimsuits adorned with eye-catching details or chic bikinis in vibrant colors or playful patterns. Enhance your ensemble with a stylish cover-up or a flowy beach dress that exudes elegance.
Complete your look with trendy accessories like oversized sunglasses, a wide-brimmed sun hat, and a chic beach bag to carry your essentials in style. Embrace comfortable yet fashionable footwear with trendy sandals or fashionable wedges that will keep you dancing all day long.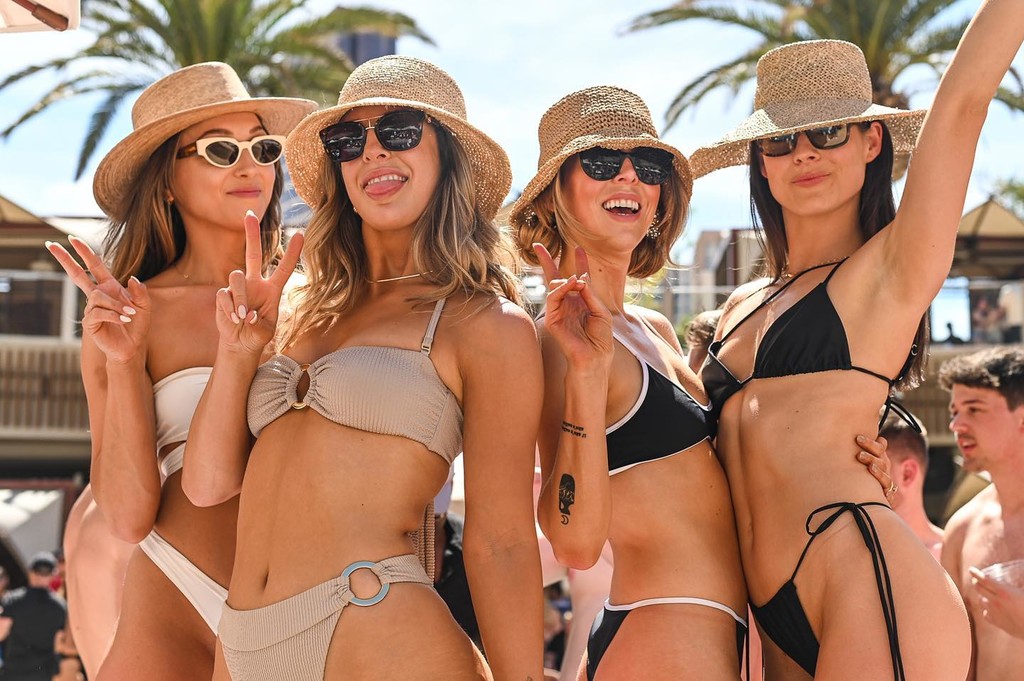 Gents: Elevate Your Pool Party Style
Gents, it's time to elevate your pool party style. Opt for upscale and trendy poolside attire that exudes confidence and sophistication. Choose designer swim shorts or swim trunks in flattering cuts and stylish colors. Pair them with a laid-back yet polished button-down shirt or a well-fitted tank top for a suave look.
Add a touch of flair with designer sunglasses and a fashionable wristwatch. Complete your ensemble with comfortable footwear like stylish slides or designer flip-flops that will keep you looking and feeling cool throughout the day.
The outfit you choose plays a pivotal role in shaping your Ayu Las Vegas Dayclub experience:
Dressing stylishly boosts your confidence, allowing you to fully immerse yourself in the vibrant atmosphere. When you feel good about your appearance, you can confidently enjoy the poolside revelry and make the most of every moment.
Adhering to the dress code ensures a hassle-free entry, avoiding any disappointment or inconvenience at the door. This means more time to indulge in the electrifying energy and create lasting memories.
By embracing poolside sophistication, you actively contribute to the exclusive and upscale ambiance that defines Ayu Dayclub. Your chic and trendy style complements the overall atmosphere, elevating the experience for everyone.
As you prepare for a sun-soaked day of luxury and excitement at VIP Ayu Day Club, remember that dressing to impress is more than just a requirement—it's an opportunity to embrace the poolside glamour and elegance that define our venue. Dress to impress while staying comfortable, and get ready for an unforgettable day of music, dancing, and poolside indulgence at Ayu Dayclub—where the ultimate party experience awaits!
Join us at Ayu Dayclub, where sophistication meets sun-soaked excitement, and create memories that will last a lifetime. Dress stylishly, feel the vibrant energy, and let the poolside party begin!

Vip Table's packs

We provide VIP services and packages so you can experience the special night out that you wish!

Easy booking

We provide VIP area maps so you can choose your seating and the minimum spend. Everything is a click away!

Happy to help!

Through email, call or WhatsApp, we are always at your service. Do not hesitate to contact our 24/7 concierge service.

Luxury Services

Cars, boats, villas, private jets, etc... All you have to do is ask. We make sure that your Vip Experience is fulfilled!
Do you want to know more about Vip Tables at Las Vegas?