EBC at Night offers an extravagant experience and an exclusive bottle menu.
When it comes to VIP treatment, EBC At Night sets the bar high.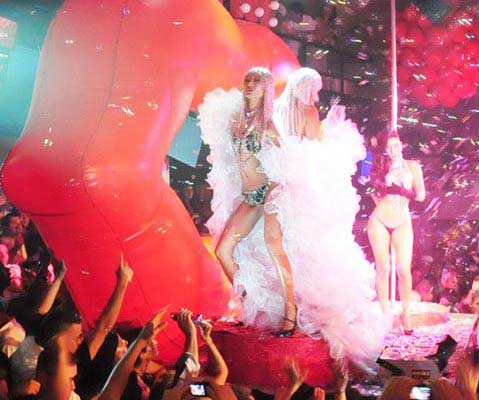 EBC at Night Las Vegas Bottle Menu
EBC At Night is not just your average nightlife destination; it's a haven of exclusivity, luxury, and unforgettable experiences. Located in the heart of a vibrant city, EBC At Night offers a unique ambience and top-notch service that caters to the most discerning clientele.
The establishment boasts several VIP areas (that you can see on EBC at night table map) designed to provide an intimate and opulent experience for its distinguished guests. These VIP areas offer privacy, impeccable service, and an elevated vantage point to enjoy the vibrant energy of the venue.
The Sky Lounge: Perched high above the dance floor, the Sky Lounge offers a breathtaking view of the entire club. This exclusive area is adorned with plush seating, elegant decor, and a dedicated waitstaff. It provides an unrivaled space to relax, socialize, and indulge in the vibrant atmosphere while sipping on handcrafted cocktails or exclusive bottle service.

Private Cabanas: For those seeking a more intimate setting, EBC At Night offers private cabanas. Nestled away from the bustling crowd, these secluded havens provide a personal sanctuary for guests. Equipped with lavish seating, dedicated cocktail servers, and a sense of exclusivity, the cabanas offer a tranquil oasis within the club's vibrant ambiance.

VIP Booths: Encore Beach Club At Night also offers a range of VIP booths strategically positioned throughout the venue. These booths provide a prime location to witness the pulsating energy of the dance floor while enjoying the privacy and comfort of your own space. Each booth comes with personalized bottle service, ensuring a seamless and indulgent experience.
EBC At Night takes pride in its extensive and carefully curated bottle menu, featuring an array of premium spirits, champagne, and wines. Crafted to cater to the refined palates of its clientele, the menu offers an exquisite selection that sets the stage for a truly extraordinary night.
Rare and Aged Whiskies: Whisky aficionados will find themselves in paradise with EBC At Night's collection of rare and aged whiskies. From single malts to blended masterpieces, the menu showcases an impressive range of internationally renowned labels and limited-edition releases, allowing guests to savor the rich flavors and complexities of these exceptional spirits.

Champagne and Sparkling Wine: Celebrations call for champagne, and EBC At Night delivers on every level. The menu features prestigious champagne brands known for their elegance and sophistication. From the classic Dom Pérignon to the vibrant and refreshing Perrier-Jouët, the champagne selection at EBC At Night adds a touch of effervescence to any occasion.
If you are planning to book and party at one of these VIP areas, make sure to dress to the standards respecting the EBC at night dress code.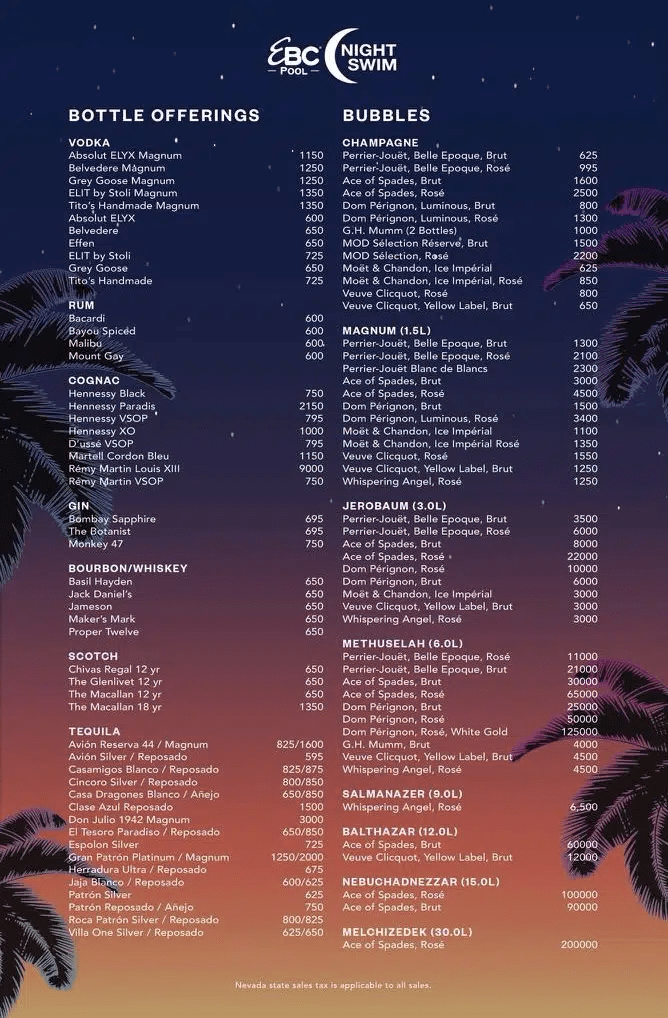 EBC Las Vegas At Night stands as a beacon of luxury, providing a nightlife experience that transcends expectations. With its lavish VIP areas and exclusive bottle menu, the establishment caters to the most discerning guests seeking an extraordinary evening. Even though private table prices may be high, it is totally worth it because the experience EBC at night offers its clientele.

Vip Table's packs

We provide VIP services and packages so you can experience the special night out that you wish!

Easy booking

We provide VIP area maps so you can choose your seating and the minimum spend. Everything is a click away!

Happy to help!

Through email, call or WhatsApp, we are always at your service. Do not hesitate to contact our 24/7 concierge service.

Luxury Services

Cars, boats, villas, private jets, etc... All you have to do is ask. We make sure that your Vip Experience is fulfilled!
Do you want to know more about Vip Tables at Las Vegas?