Marquee Dayclub offers luxurious cabanas and an exclusive bottle menu.
Experience the exceptional privileges that private tables provide at Marquee Dayclub.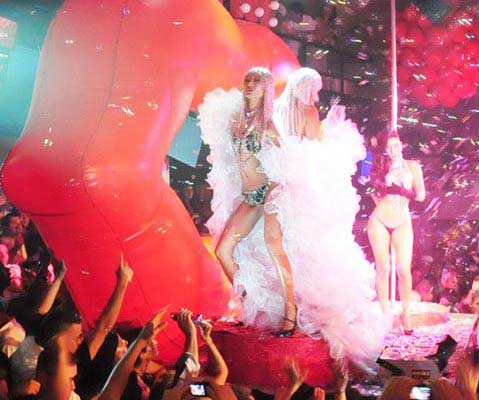 Marquee Dayclub Las Vegas Bottle Menu
When it comes to experiencing the ultimate pool party in Las Vegas, Marquee Dayclub stands in a league of its own. Renowned for its extravagant ambiance and high-energy atmosphere, this iconic dayclub offers an array of premium bottles and exclusive perks for its discerning clientele.
Marquee Dayclub takes pride in its extensive and carefully curated bottle menu, featuring an impressive selection of premium spirits, champagnes, and signature cocktails. From renowned champagne houses like Dom Pérignon and Cristal to top-shelf spirits such as Belvedere and Grey Goose, the menu caters to the most sophisticated tastes. Each bottle is served with flair, presented in stunning fashion to elevate your poolside experience. Whether you prefer a classic cocktail, a crisp glass of wine, or a bottle of your favorite spirit, Marquee Dayclub ensures that every sip is of the utmost quality.
When you reserve a bottle from the menu, you can expect a personalized and unforgettable presentation. Imagine your chosen bottle arriving at your table, accompanied by an entourage of staff, with sparklers, confetti, and a grand entrance that commands attention. These special moments create a vibrant atmosphere, making you feel like a true VIP and setting the stage for an extraordinary celebration. The expert mixologists and servers will ensure that your experience is nothing short of extraordinary.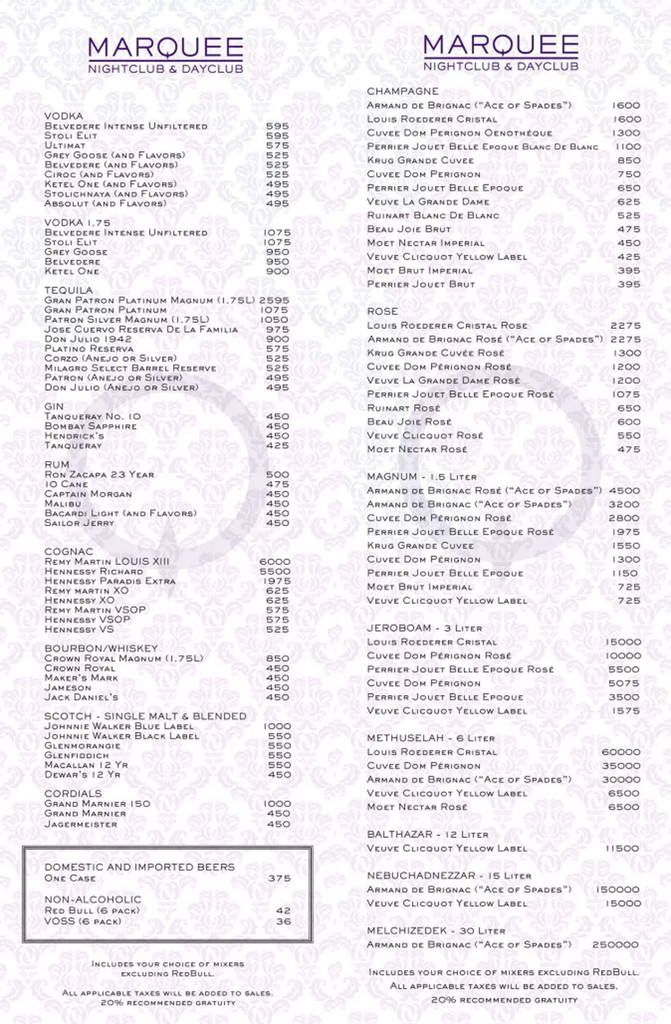 Marquee Dayclub Las Vegas offers exclusive VIP table reservations, with different prices, providing an elevated level of luxury and privacy. These tables grant you and your group prime real estate within the dayclub, ensuring optimal views of the stage and pool. From plush seating and personalized service to dedicated waitstaff and security, the VIP tables offer a seamless and indulgent experience. The attentive staff will cater to your every need, from bottle service to customized amenities, ensuring that you and your party receive the VIP treatment you deserve.
For those seeking an even more exclusive experience, Marquee Dayclub offers luxurious cabanas. These private enclaves provide a secluded haven where you can relax and revel in the excitement of the dayclub. Equipped with private pools, comfortable seating, and premium amenities, the cabanas offer an unparalleled level of opulence. With dedicated waitstaff at your disposal, you can enjoy a seamless and personalized experience while immersing yourself in the vibrant energy of the dayclub. Want to book a table? Please check the Marquee Dayclub table map to choose the perfect spot for you and your guests.
VIP Marquee Dayclub in Las Vegas sets the standard for an extraordinary pool party experience. With its premium bottle selection, personalized presentations, and exclusive privileges at private tables and cabanas, Marquee Dayclub offers a world of luxury and indulgence. Whether you're celebrating a special occasion or simply seeking an unforgettable day in Las Vegas, Marquee Dayclub promises an immersive and unforgettable experience that will leave you craving more. Make sure to read more about Marquee Dayclub and its dress code before heading to the party to avoid disappointment.

Vip Table's packs

We provide VIP services and packages so you can experience the special night out that you wish!

Easy booking

We provide VIP area maps so you can choose your seating and the minimum spend. Everything is a click away!

Happy to help!

Through email, call or WhatsApp, we are always at your service. Do not hesitate to contact our 24/7 concierge service.

Luxury Services

Cars, boats, villas, private jets, etc... All you have to do is ask. We make sure that your Vip Experience is fulfilled!
Do you want to know more about Vip Tables at Las Vegas?