We understand a great bottle menu is essential for an extraordinary night.
The bottle menu at Omnia embodies a commitment to personalized service and elevated experiences.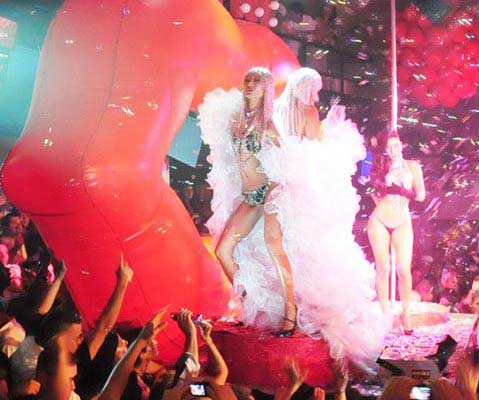 Omnia Las Vegas Bottle Menu
Nestled on the iconic Las Vegas Strip, Omnia Las Vegas stands tall as a beacon of glamour and excitement. As the doors swing open, a world of grandeur and revelry unveils itself, captivating visitors from near and far. With its striking architecture, cutting-edge design, and an atmosphere pulsating with energy, Omnia has earned its reputation as one of the city's most celebrated nightclubs. Prepare to be enthralled as we delve into the heart of Omnia and present its unparalleled bottle menu—a testament to the club's dedication to providing unforgettable experiences.
The bottle menu at Omnia Las Vegas is a showcase of the finest spirits, champagnes, and cocktails, carefully selected to cater to the diverse palates of its discerning clientele. From premium vodkas that glide across the palate to rare whiskies that embody sophistication, each bottle offers a journey through the realms of flavor and indulgence.
For champagne enthusiasts, Omnia presents a collection of prestigious bubbly that adds an element of elegance to any celebration. From renowned houses to limited-edition cuvées, the champagne selection is a testament to the club's commitment to luxury. Sip on effervescent delights, toasting to the night's revelries in style, as the vibrant atmosphere of Omnia envelopes you. Explore Omnia Las Vegas table map, select your preferred VIP table and contact us for reservations.
The bottle menu at Omnia Nightclub in Las Vegas goes beyond offering a selection of exquisite libations; it also embodies a commitment to personalized service and elevated experiences. Guests have the option of enjoying Omnia Las Vegas bottle service, where dedicated servers attend to their every need, ensuring a night of VIP treatment and exclusive access. This bespoke service allows patrons to immerse themselves in the world of Omnia, indulging in the club's vibrant ambiance while savoring their chosen drink. Find below Omnia Las Vegas bottle menu: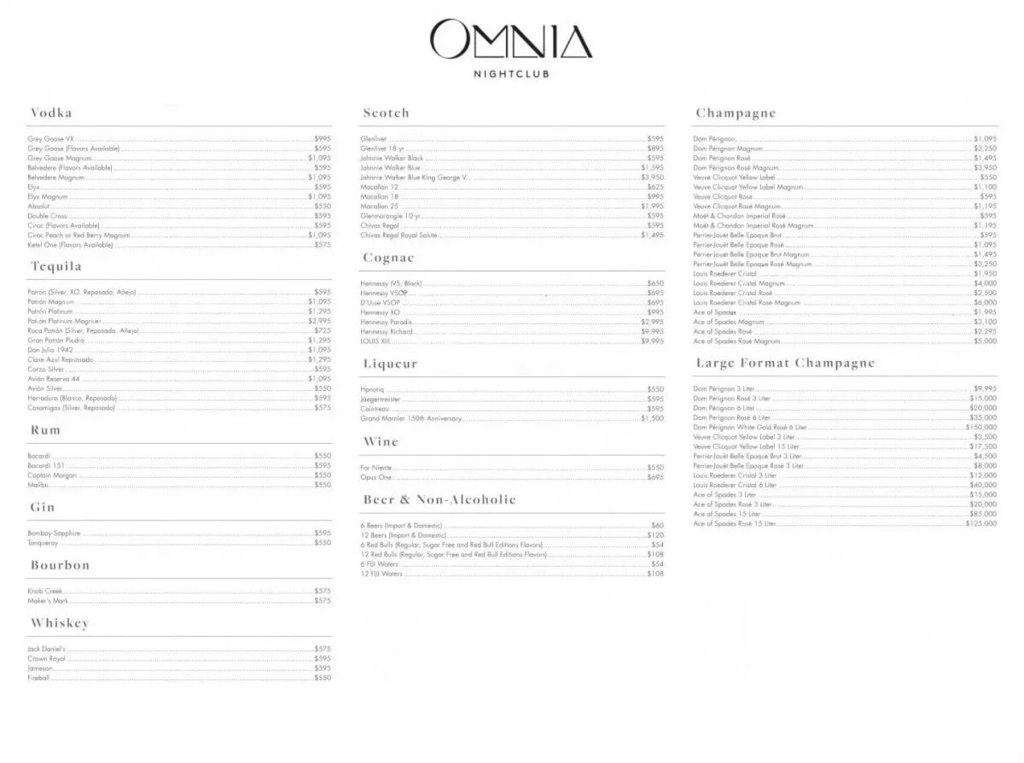 VIP Omnia Las Vegas and its exquisite bottle menu invite you to experience a night of unparalleled luxury and excitement. From the first sip to the final toast, every moment spent within the club's stunning walls is crafted to create memories that will last a lifetime. For more info on Omnia VIP table prices and bookings, don't hesitate and contact us. Please make sure to check the Omnia Las Vegas dress code guide here. See you there for an unforgettable evening and party in Las Vegas!

Vip Table's packs

We provide VIP services and packages so you can experience the special night out that you wish!

Easy booking

We provide VIP area maps so you can choose your seating and the minimum spend. Everything is a click away!

Happy to help!

Through email, call or WhatsApp, we are always at your service. Do not hesitate to contact our 24/7 concierge service.

Luxury Services

Cars, boats, villas, private jets, etc... All you have to do is ask. We make sure that your Vip Experience is fulfilled!
Do you want to know more about Vip Tables at Las Vegas?