EBC is renowned for its luxurious poolside experience and extravagant parties.
Get ready to elevate your experience with the Encore Beach Club bottle menu.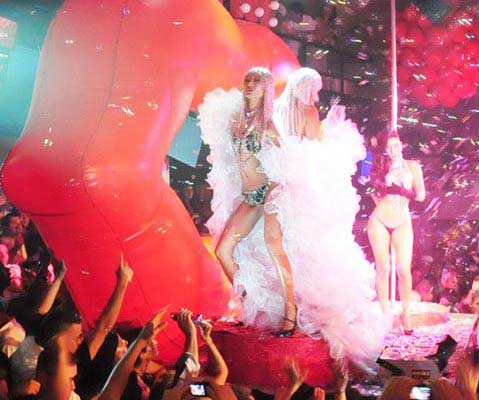 Encore Beach Club Bottle Menu
Located in the heart of Las Vegas, Encore Beach Club takes pride in offering a carefully curated bottle menu that caters to even the most discerning palates. From premium champagnes and top-shelf spirits to signature cocktails and refreshing wines, the extensive selection ensures there's something for everyone. Indulge in the finest bottles of Dom Pérignon, Ace of Spades, or Belvedere, accompanied by a dazzling presentation that adds an extra touch of sophistication to your experience. The knowledgeable staff will guide you through the menu, helping you choose the perfect bottle to elevate your celebration.
For those seeking an elevated level of luxury, Encore Beach Club offers exclusive VIP table reservations with different table prices. Immerse yourself in the glamorous ambiance as you relax in your private enclave, complete with plush seating and personalized service. The VIP tables are strategically positioned to provide prime views of the pool and stage, allowing you to revel in the energy of the crowd while maintaining your own intimate space. Your dedicated host will ensure that your every need is met, from bottle service to customized amenities, making you feel like a true VIP.
At EBC Las Vegas, presentation is everything. When you reserve a bottle from the menu, you can expect a personalized and memorable experience. Imagine your chosen bottle arriving at your table, beautifully adorned with sparklers, confetti, and a grand entrance that commands attention. The skilled staff will create a spectacle, ensuring that you and your party feel like the center of attention. These special moments are perfect for commemorating milestones, birthdays, or simply adding a touch of glamour to your day. Before booking a private table or bottle service, we recommend checking the EBC Las Vegas table map in advance.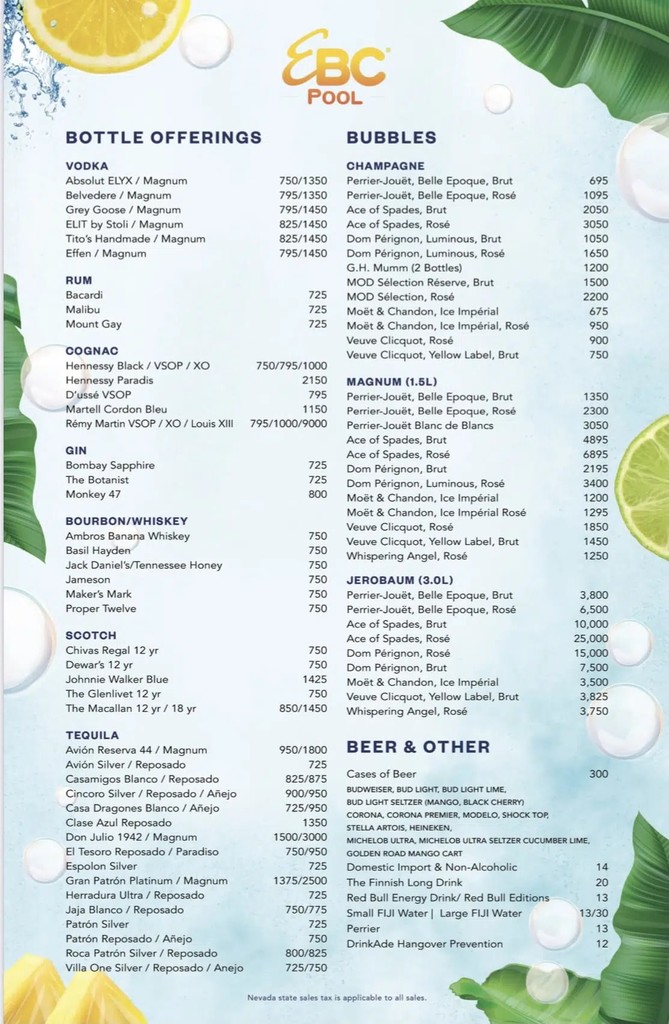 If you desire the ultimate luxury experience, consider reserving one of the VIP cabanas at Encore Beach Club. These private retreats offer a secluded haven with enhanced amenities such as private pools, dedicated waitstaff, and lavish furnishings. Relax in the comfort of your own oasis while enjoying the pulsating beats and vibrant energy of the poolside party. VIP cabanas provide an unparalleled level of exclusivity and are ideal for those seeking privacy while still being immersed in the excitement.
Encore Beach Club strives to create unforgettable memories for its guests. The combination of a refined bottle menu, VIP table service, and luxurious surroundings ensures that every visit is a remarkable experience. Whether you're celebrating a special occasion, partying with friends, or simply indulging in the finer things in life, Encore Beach Club offers an unrivaled setting where you can create lasting memories and bask in the epitome of luxury.
In conclusion, VIP Encore Beach Club in Las Vegas sets the standard for an extraordinary poolside experience. With its exceptional bottle menu, VIP table service, and unrivaled ambiance, it provides a luxurious escape where you can immerse yourself in a world of indulgence and create unforgettable moments. Get ready to elevate your Las Vegas experience at Encore Beach Club, where luxury meets revelry. Remember to always dress like a VIP respecting the EBC Las Vegas dress code policy.

Vip Table's packs

We provide VIP services and packages so you can experience the special night out that you wish!

Easy booking

We provide VIP area maps so you can choose your seating and the minimum spend. Everything is a click away!

Happy to help!

Through email, call or WhatsApp, we are always at your service. Do not hesitate to contact our 24/7 concierge service.

Luxury Services

Cars, boats, villas, private jets, etc... All you have to do is ask. We make sure that your Vip Experience is fulfilled!
Do you want to know more about Vip Tables at Las Vegas?