Ayu Dayclub is a fusion of exclusivity and extravagance.
Join us and enjoy a meticulously crafted bottle menu and luxurious VIP table area.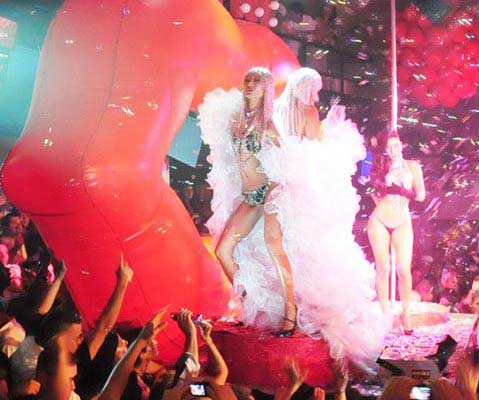 Ayu Dayclub Las Vegas Bottle Menu
In the bustling city of Las Vegas, Ayu Dayclub has established itself as a haven of exclusivity and unparalleled entertainment. Located in the heart of the iconic Las Vegas Strip, Ayu Dayclub offers a mesmerizing experience that combines a carefully curated bottle menu, luxurious VIP tables, and an atmosphere brimming with exclusiveness. With its commitment to providing unforgettable moments, Ayu Dayclub has become the go-to destination for those seeking an extraordinary dayclub experience. Please make sure to check the Ayu Dayclub dress code and policies before attending the club's amazing parties.
Ayu Dayclub has meticulously crafted a bottle menu that exudes sophistication and indulgence. The club's extensive selection boasts premium spirits, refined champagnes, and exquisite wines, catering to the discerning tastes of its distinguished clientele. Each bottle is carefully chosen to ensure that guests can indulge in their preferred libation while being swept away by the electrifying energy that permeates Ayu Dayclub. The bottle menu and bottle service is a testament to the club's dedication to offering the very best to its guests.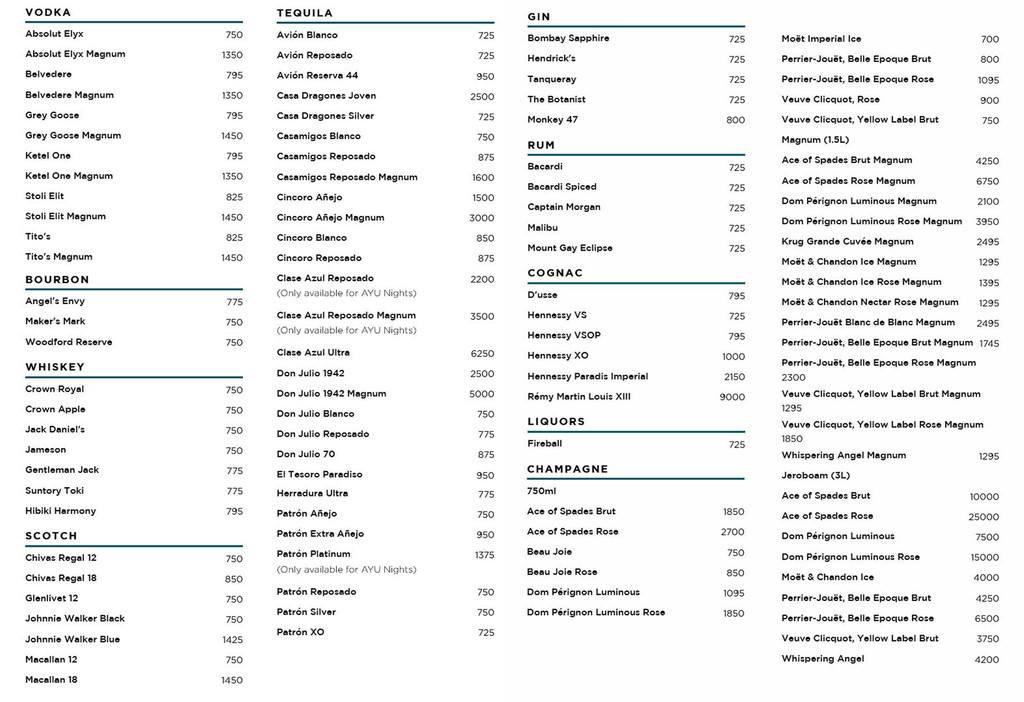 For those seeking the ultimate in exclusivity, Ayu Las Vegas Dayclub provides luxurious VIP tables that elevate the experience to new heights. These sought-after tables offer a private oasis amidst the vibrant atmosphere, allowing guests to immerse themselves in the captivating performances and world-class DJs while enjoying personalized service and exceptional amenities. With prime positioning and a dedicated staff attending to their every need, VIP table guests are treated to an unrivaled level of opulence and attention to detail.
VIP table packages include an array of benefits, such as dedicated hosts, expedited entry, and a carefully curated selection of beverages and mixers. The comfortable seating and intimate surroundings create an atmosphere of exclusivity, where guests can connect, celebrate, and revel in the vibrant ambiance that defines Ayu Dayclub. The VIP tables truly embody the epitome of luxury, providing an unforgettable experience that will leave a lasting impression. Contact us for info on Ayu Dayclub VIP table booking and Ayu Dayclub table prices.
VIP Ayu Dayclub in Las Vegas encapsulates the essence of a remarkable dayclub experience. With its captivating ambiance, world-renowned DJs, and awe-inspiring performances, Ayu sets the stage for unforgettable memories. By choosing a VIP table from the Ayu Dayclub table map, guests gain access to an extraordinary world where the fusion of exclusivity and entertainment becomes a reality. From the pulsating beats to the stunning visual productions, every moment spent at Ayu Dayclub is a journey into opulence and exhilaration.

Vip Table's packs

We provide VIP services and packages so you can experience the special night out that you wish!

Easy booking

We provide VIP area maps so you can choose your seating and the minimum spend. Everything is a click away!

Happy to help!

Through email, call or WhatsApp, we are always at your service. Do not hesitate to contact our 24/7 concierge service.

Luxury Services

Cars, boats, villas, private jets, etc... All you have to do is ask. We make sure that your Vip Experience is fulfilled!
Do you want to know more about Vip Tables at Las Vegas?