Welcome to Chateau, the epitome of luxury in the heart of Las Vegas.
Chateau Las Vegas offers an extensive bottle menu with a selection of premium bottles.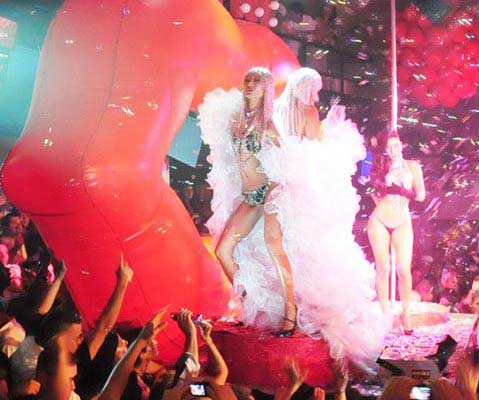 Chateau Las Vegas Bottle Menu
Nestled within the iconic Paris Las Vegas hotel, Chateau Club sets the standard for high-end nightlife experiences. With its sophisticated ambiance, impeccable bottle service, and an extensive selection of premium beverages, Chateau Club is a haven for discerning individuals seeking an extraordinary night out.
Chateau Club, takes pride in curating a meticulously crafted bottle menu, catering to the most refined palates. The high-end bottle menu showcases an exquisite array of spirits, champagnes, and liqueurs from around the world. Each selection is carefully chosen to provide an unparalleled drinking experience, elevating your night to new heights of indulgence. Planning on booking a VIP table? Make sure to explore the Chateau Las Vegas table map beforehand.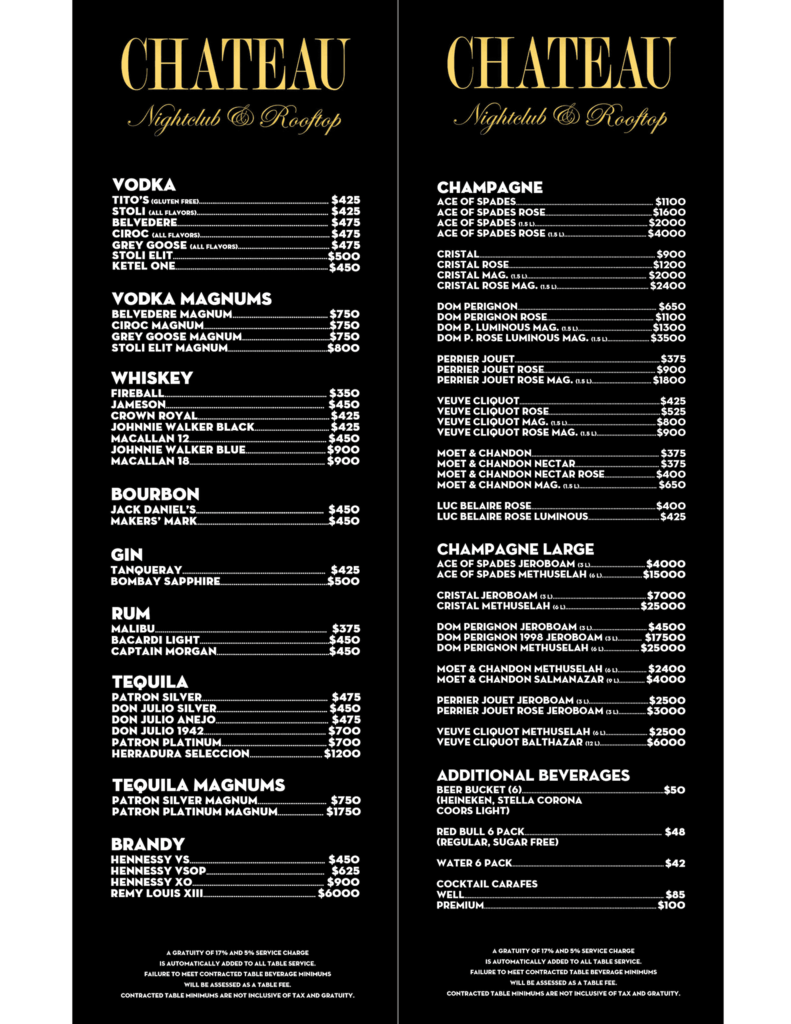 As you enter our VIP table area at Chateau Nightclub, you are transported to a realm of opulence and sophistication. The VIP table area is designed to offer an elevated experience for those who seek an exclusive and intimate setting to enjoy their night. Lavish seating arrangements, luxurious decor, and personalized service create an atmosphere of unparalleled comfort and indulgence. VIP table prices at Chateau Nightclub Las Vegas may vary depending on the season and event.
The knowledgeable staff is trained to provide personalized recommendations based on your preferences, ensuring that every sip you take is tailored to your liking. Whether you desire a classic cocktail mixed to perfection, a rare single malt scotch poured neat, or a bottle of vintage champagne presented with finesse, our dedicated team will ensure that your desires are met with the utmost care and attention.
The VIP table area at Chateau Las Vegas offers an unmatched vantage point to observe the vibrant energy of the dance floor, while still maintaining an air of exclusivity and privacy. It is the perfect space to celebrate special occasions, entertain guests, or simply revel in the luxuries that Chateau Club has to offer.
Whether you're a local resident or a visitor seeking an extraordinary night out, Chateau Club in Las Vegas invites you to indulge in the epitome of luxury and revel in an experience that transcends expectations. Come and discover the allure of Chateau Club, where sophistication, exclusivity, and unforgettable memories intertwine. For more information regarding bookings, Chateau dress code, and prices, please contact us.

Vip Table's packs

We provide VIP services and packages so you can experience the special night out that you wish!

Easy booking

We provide VIP area maps so you can choose your seating and the minimum spend. Everything is a click away!

Happy to help!

Through email, call or WhatsApp, we are always at your service. Do not hesitate to contact our 24/7 concierge service.

Luxury Services

Cars, boats, villas, private jets, etc... All you have to do is ask. We make sure that your Vip Experience is fulfilled!
Do you want to know more about Vip Tables at Las Vegas?