Chateau Las Vegas is a gateway to an unparalleled VIP experience.
Prepare to be immersed in a world of luxury and top-notch service.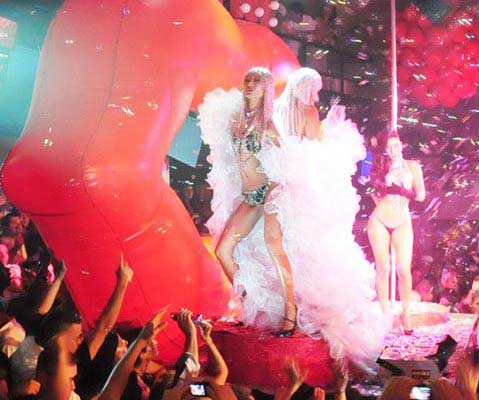 Chateau Las Vegas Table Map
Las Vegas is renowned for its extravagant nightlife and opulent club experiences, and Chateau Las Vegas Club stands tall as an epitome of luxury and entertainment. As you step into this iconic venue, you are greeted with an array of lavish VIP tables and a meticulously designed table map that sets the stage for an unforgettable night.
Chateau's table map serves as a visual guide to the world of luxury and exclusivity within the club. The map showcases the layout of the VIP area, highlighting each table's unique features, such as proximity to the dance floor, private sections, and breathtaking views of the club's stunning décor. By exploring the table map, you gain a glimpse of the opulence that awaits you and can select the perfect table to suit your preferences. Please note that the Chateau Las Vegas table prices vary depending on its location and size of the table.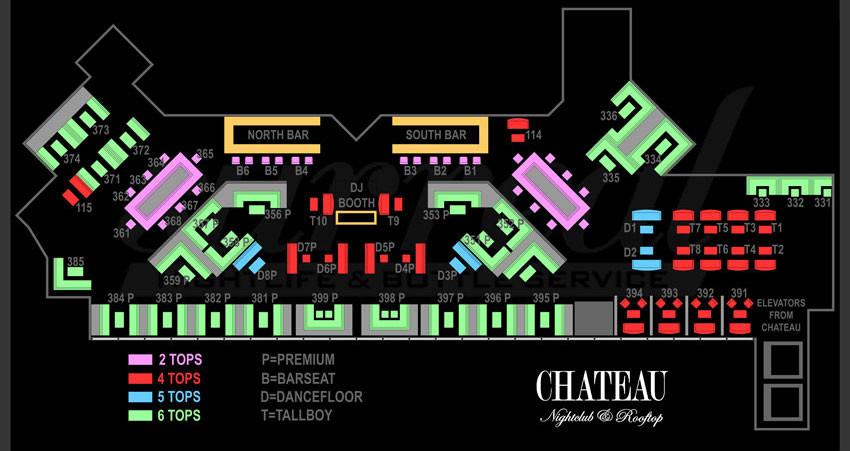 Chateau Nightclub Las Vegas offers a diverse range of VIP table options, each catering to different group sizes and preferences. From intimate corners for a private celebration to elevated platforms for a commanding view of the club, the table map helps you explore and identify the exclusive seating options available. By securing your preferred table, you ensure a personalized and intimate setting to enjoy the club's electric atmosphere.
Choosing the best table through Chateau's table map not only ensures a prime seating location but also grants you access to personalized service and attention. The club's dedicated staff and waitstaff cater to your every need, ensuring that you and your guests are treated like royalty throughout the night. From premium Chateau bottle service to prompt assistance, the personalized experience makes your night truly unforgettable.
The table map provides valuable information about the exclusive amenities and perks associated with each VIP table. Whether it's access to a private bar, a dedicated server, or exclusive sections with enhanced privacy, exploring the table map helps you select a table that aligns perfectly with your preferences and expectations.
By exploring the map, you gain insights into the various VIP table options available, their unique features, and the amenities they offer. Prepare to be immersed in a world of luxury, elegance, and top-notch service as you enjoy an unforgettable night at Chateau VIP Las Vegas Club. Explore the table map and the Chateau Las Vegas bottle menu and discover your ticket to an extraordinary nightlife experience. Recall that the Chateau Las Vegas dress code is to dress to impress. Put on your finest outfit and enjoy your night!

Vip Table's packs

We provide VIP services and packages so you can experience the special night out that you wish!

Easy booking

We provide VIP area maps so you can choose your seating and the minimum spend. Everything is a click away!

Happy to help!

Through email, call or WhatsApp, we are always at your service. Do not hesitate to contact our 24/7 concierge service.

Luxury Services

Cars, boats, villas, private jets, etc... All you have to do is ask. We make sure that your Vip Experience is fulfilled!
Do you want to know more about Vip Tables at Las Vegas?