Hakkasan promises an experience that transcends expectations.
Raise your glass and surrender to the opulence that awaits at Hakkasan.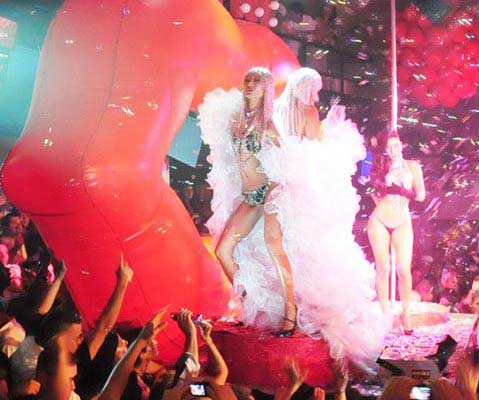 Hakkasan Las Vegas Bottle Menu
Located in the heart of the renowned Las Vegas Strip, Hakkasan Las Vegas stands tall as an emblem of sophistication and exhilaration. Boasting a perfect fusion of fine entertainment and nightlife, Hakkasan has become a legendary destination for those seeking an extraordinary experience. From its lavish interior to its world-class DJs, Hakkasan sets the stage for unforgettable nights. Today, we delve into the essence of Hakkasan and present its illustrious bottle menu and bottle service—an exquisite collection that epitomizes luxury and indulgence.
Hakkasan Nightclub Las Vegas takes great pride in offering a bottle menu that caters to the diverse tastes of its discerning patrons. The menu showcases an exceptional selection of premium spirits, champagnes, and handcrafted cocktails, ensuring a memorable drinking experience for every guest. From rare and aged whiskies to artisanal vodkas and tequilas, each bottle is meticulously chosen to provide an extraordinary journey through the realms of flavor. Find below Hakkasan Club bottle menu: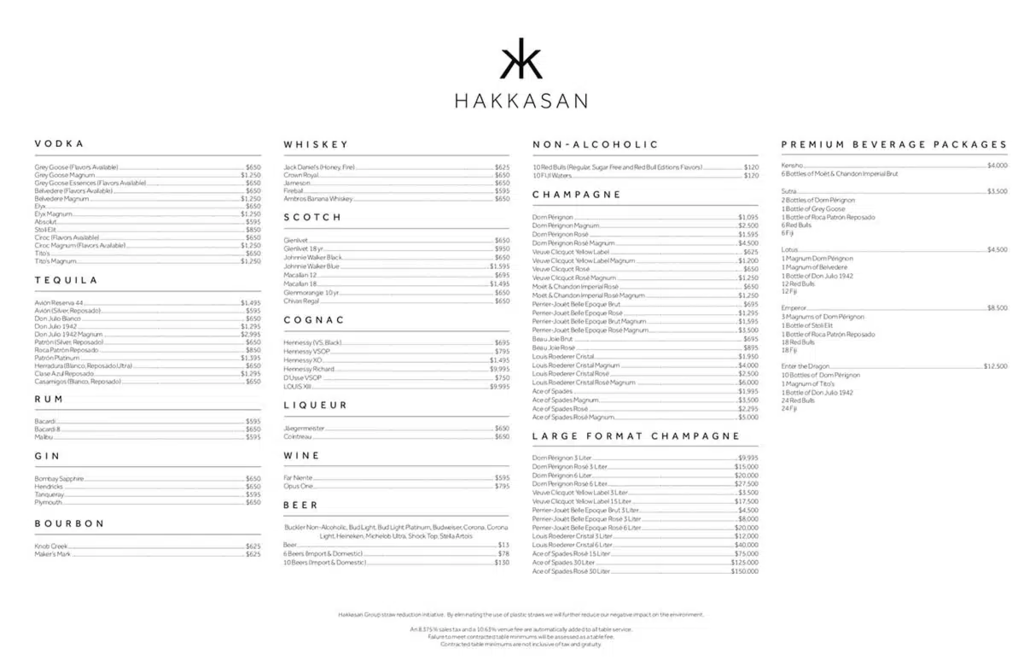 For champagne lovers, Hakkasan's champagne collection is a testament to the club's commitment to excellence. From renowned houses to exclusive cuvées, the menu boasts a range of bubblies that exude sophistication and elegance. Raise a glass and savor the effervescence, as you toast to life's memorable moments amidst the chic ambiance of Hakkasan at one of its VIP tables from the Hakkasan VIP table map. For more details on Hakkasan VIP table prices, call or WhatsApp us at the number provided below.
Join us and embrace the exclusivity and VIP treatment, as you revel in the vibrant energy and world-class entertainment that Hakkasan provides. VIP Hakkasan Las Vegas and its distinguished bottle menu invite you to embark on a night of unparalleled luxury and excitement. From the first sip to the last beat, Hakkasan promises an experience that transcends expectations. So, whether you're celebrating a special occasion or simply looking to immerse yourself in the vibrant nightlife of Las Vegas, allow Hakkasan to guide you through its meticulously curated bottle menu. Check Hakkasan dress code guide, put on your finest outfit, raise your glass and surrender to the opulence and euphoria that awaits at Hakkasan Las Vegas.

Vip Table's packs

We provide VIP services and packages so you can experience the special night out that you wish!

Easy booking

We provide VIP area maps so you can choose your seating and the minimum spend. Everything is a click away!

Happy to help!

Through email, call or WhatsApp, we are always at your service. Do not hesitate to contact our 24/7 concierge service.

Luxury Services

Cars, boats, villas, private jets, etc... All you have to do is ask. We make sure that your Vip Experience is fulfilled!
Do you want to know more about Vip Tables at Las Vegas?