Marquee Las Vegas offers an exquisite bottle menu for a unique night out.
The bottle menu at Marquee comes with a level of customization and personalization like no other.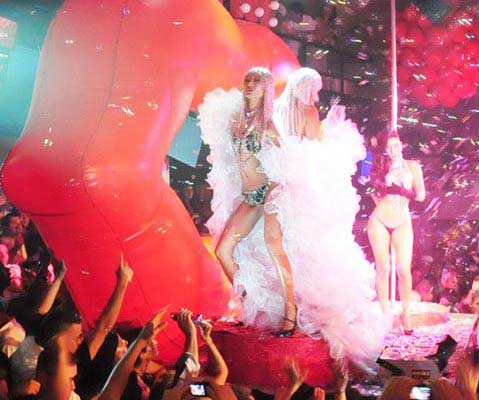 Marquee Las Vegas Bottle Menu
Nestled amidst the glitz and glamour of the Las Vegas Strip, Marquee Nightclub stands as a shining beacon of nightlife extravagance. With its dazzling lights, pulsating beats, and star-studded lineups, Marquee has earned a reputation as one of the city's premier destinations for partygoers in search of an unforgettable experience. As you step through its doors, you enter a world of opulence and exhilaration, where every detail is meticulously crafted to ensure a night to remember. One aspect that sets Marquee apart is its exceptional bottle menu, enticing clientele with an array of premium spirits, champagnes, and bespoke cocktails that elevate the evening to new heights.
The bottle menu at Marquee Nightclub is a testament to the venue's commitment to luxury and indulgence. Carefully curated to cater to the most discerning of tastes, it offers an impressive selection of high-end spirits that showcase the finest craftsmanship and attention to detail. From rare and aged whiskeys that exude sophistication to artisanal vodkas that tantalize the palate, each bottle tells a story of excellence. For those seeking a touch of elegance, Marquee's champagne collection boasts prestigious labels that add a sense of celebration and glamour to any occasion.
While the price tag of bottle service at Marquee Las Vegas may seem steep to some, it is important to consider the unparalleled experience it offers. By opting for bottle service, clientele gain exclusive access to dedicated VIP areas, allowing them to revel in privacy and comfort while still being at the center of the electrifying atmosphere. With personal servers attending to their every need, from securing prime seating to ensuring a constant flow of their preferred libations, guests can truly immerse themselves in the world of Marquee and indulge in a night of VIP treatment.
Paying the price for VIP table bottle service at Marquee Nightclub also grants patrons the convenience of expedited entry, bypassing long lines and avoiding unnecessary waiting. This seamless entry ensures that valuable time is spent enjoying the club's immersive ambiance and world-class entertainment rather than queuing outside. It's an opportunity to make the most of the night and create lasting memories without any hassle.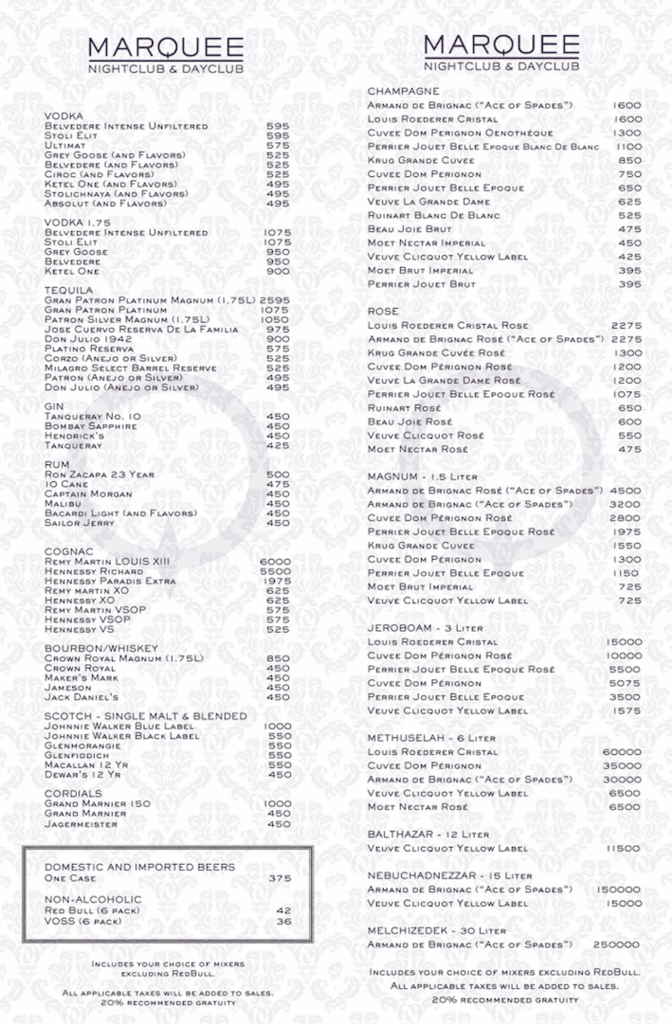 The luxury, exclusivity, and personalized attention provided by bottle service at Marquee VIP Las Vegas create an atmosphere that goes beyond the ordinary, allowing guests to immerse themselves in a world of opulence and excitement. So, whether celebrating a special occasion or simply seeking an extraordinary night out, consider the benefits of Marquee's bottle service and elevate your experience to new heights. Make sure to explore Marquee table map and Marquee dress code guide in advance before booking your VIP table.

Vip Table's packs

We provide VIP services and packages so you can experience the special night out that you wish!

Easy booking

We provide VIP area maps so you can choose your seating and the minimum spend. Everything is a click away!

Happy to help!

Through email, call or WhatsApp, we are always at your service. Do not hesitate to contact our 24/7 concierge service.

Luxury Services

Cars, boats, villas, private jets, etc... All you have to do is ask. We make sure that your Vip Experience is fulfilled!
Do you want to know more about Vip Tables at Las Vegas?